So, I can't seem to find a pic that I saw a few days ago where the LMP (or LMP2) has the skin off and it shows the fuel tanks in the side chambers. I'm hoping it's the LMP2 but not sure it is since the Nemesis doesn't have the tanks there.
So the Nemesis (non tandem) can become the LMP2, yes? I see the lmp2 with a single piece body over the whole car. Is that different than the pontoons Fran mentiones
in this post
?
so in this pic: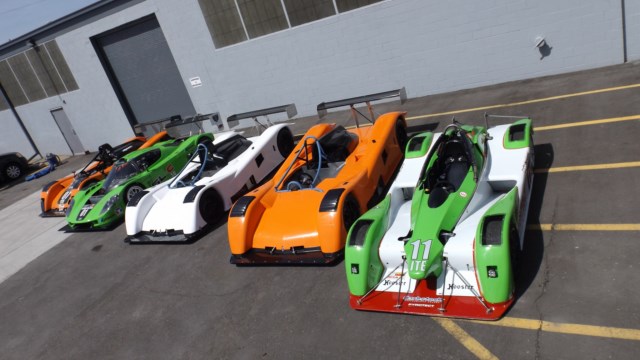 from right to left is it:
* lmp
* lmp2
* lmp2
* slc
* lmp
?
The reason I ask is that I'm interested in making an EV ultra light weight commuter. I know, I know the nemesis and lmp2 are track cars. but as fran notes, if the end user is willing to do the legwork,
it's possible.
.. I'm in Virginia to it would seem I just need a windshield and wiper.
when fran states about the pontoons:
"Another really cool thing we have done is to include mounting lugs on the Nemesis chassis to allow it to become the LMP2 as a bolt on chassis application. The pontoons will then also be able to be replaced should some one have a "whoops" on track in their LMP2."
does anyone have any pictures of the pontoon attachments?
Plan A = have battery banks immediately to the side of the cabin, on both sides of the car, under the cover of the lmp2 body (no down vents like the bigger lmp radiator intakes so I'm hopeful there is good space in there) So, would the ford IRS rear work in the nemesis/lmp2 rear end if driven from a direct drive electric motor?
Plan B = diesel VW lmp2
I commute now in a fantastic handling/performing car - and I'm glad I pulled the trigger on it 16 months ago. But i get only about 13.4 mpg and I'd like to have something else to keep the miles down on this special car which isn't being made in this trim anymore (CTS-V Wagon). I can't convince my wife a motorbike is safe enough, so I'm looking to go full EV (with flexible solar pv panels as a 2nd skin) and charging at both ends of my modest (30 min) commute as required.
Does anyone know how this turned out?
http://www.gt40s.com/forum/rcr-forum-rcr40-slc-p4-mkiv/28392-sl-ev.html