Hello, GT40ers! My name is Collins, my boss Chuck and I are building a couple GT40s here at our company in Kansas City. The forum has helped me quite a bit already, so I thought I would introduce myself and start asking some questions.
I'm a Mechanical Engineer, graduated from the University of Kansas in 2012. I was on the Formula SAE team there, I designed the wings for our 2012 combustion car. (We took first place in the Lincoln, Nebraska competition!) I have a few years of SolidWorks experience (design is what I do primarily at the company among other things) and have some composites experience from school. Our FSAE car was a full carbon monocoque, carbon wings, carbon wheels, etc. Fun stuff.
My boss's company made Cobra kit cars up until a few years back when their engineer passed away and halted the project. They also made a prototype GT that they sold as a rolling chassis. It was finished over the past few years buy its owner and we brought it back here to tune it; it's a good looking car. We have a full engine shop here with a very knowledgeable group of machinists that run it, in addition to both a four wheel chassis dyno and engine dyno.
Here's the completed GT prototype on our dyno: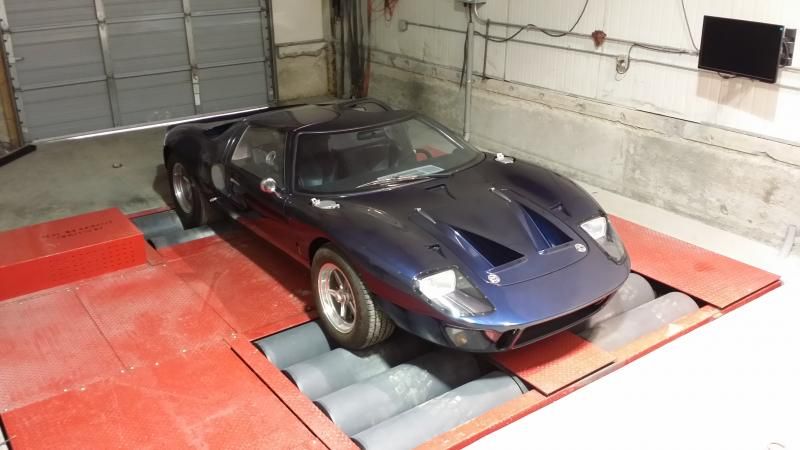 The prototype car is a great looking car but the design is not what I would have done; we are making quite a few changes to the frame in this second build. I wasn't part of that build at all and can take no credit for it besides helping load it onto a trailer. :laugh:
The GT40 has always been a favorite car of mine; when I found out that my boss used to build kit cars (I didn't know until after I started working here) I was pretty excited. We decided to take our spare time and build a couple GTs for fun. We also have a few Cobra bodies laying around and all the jigs to weld up some more chassis', so we're making a few of those as well with help from a former employee who was the guy that welded them all together back when they made kits.
I will go into the details of our GT project in a build thread before too long; We started slow but are starting to pick up the pace a bit and I have some questions. This seems like the perfect group to field them to! I'm designing the car in SolidWorks as we build, it has already helped alleviate quite a few problems by doing everything in the computer. The driving idea behind the project is to make a GT using modern parts and drivetrain; it won't be a purist's car. We will be utilizing the C5/C6 Corvette suspension, Ford 5.0 Coyote drivetrain (I would like to use an 8 stack with it) , and an RBT ZF Trans.
Looking forward to being a part of the forum, and thanks in advance for all of the advice!