Are you considering a ZF 5DS-25/1,2 or M1 for your GT40? Well if you are, you owe it to yourself to get to know this name. More specifically, you'll want to introduce yourself to Dennis Quella, the proprietor of Pantera Performance.
I have been working in the Denver suburb of Littleton, CO the last few days and we hit a roadblock this afternoon, so I jumped in the rental and drove the 20 minutes south on I-25 to Castle Rock. I wasn't sure that I was at the right place as it was the last building at the end of a dead-end street just a few blocks off of the interstate. However when I stuck my head in the garage door, there was no doubt; there were at least a dozen Panteras shoe horned into the shop in just about every stage of disassembly or reassembly you can imagine. I introduced myself as being from GT40s.com and was immediately pointed towards a Pantera with a rather large fellow seated in the engine bay and told, "you probably want to talk to Dennis, he owns the place."
As I walked to the car, I noticed that the lanes I was walking in were demarked by ZF transaxles and Ford tall decked small blocks. Dennis had climbed out by the time I got to him and he introduced himself. A very openly friendly guy, we were soon talking like old buddies. This man KNOWS Panteras and he knows the ZF transaxle. In the hour of car talk there is no way to know what the man is capable of, but if knowledge level of Panteras AND GT40s, activity in racing Panteras, the ability to design and produce some very pretty CV flange retrofit parts for the ZF is any indication (see photo below), Dennis is "the man" when it comes to not only ZF transaxles, but really ZF based drive trains. I am sure he would supply you with a long list of very satisfied customers, but I am pretty confident in saying that if you want to, as he put it, use the ZF the right way (flipped from the position that they are used in the Pantera) you would be hard pressed to find a better man to talk to. Bye the way, if you visit his shop, have him show you his race car with its tube frame chassis and bundle of snakes headers which is a thing of beauty. Although, he'll tell you that there is an even nicer one that has the ZF flipped and the engine lowered. (The car I saw is designed with all stock suspension and drive train pickup locations.)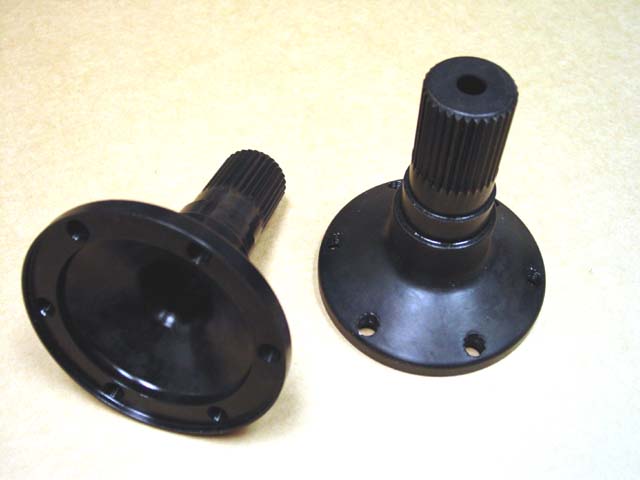 Their website is still being tweaked, but you can get a taste at
Pantera Performance website.
Go to the new parts link and you can take a look at the complete CV Joint/Axle Assembly that goes with the CV output shafts shown above. Here is their snail mail address and other contact info:
Pantera Performance
1856 North Park Street
Castle Rock, CO 80109
303-660-9897
303-660-9159 fax
Lynn