I'll post more photos later. Mostly of the engine bay as I want to polish the stainless exhaust a bit. Also of some of the parts you do not see (the other door, the other seat, the rear spoiler, etc.). Location is Frisco, TX USA.
Anyway, there comes a time when you have to be honest with yourself and realize you aren't the fit/thin guy you used to be. Long story short, after putting the driver's seat in and trying to squeeze into my build, I just don't fit the car. Not really that close. So, it's time to let someone finish what I've started...think you will like what you find.
The specs of the car are as follows:
VIN # GTS40-JEC-LRG-CR3008 GTForte IVA compliant chassis with integrated full roll cage (most of which can be removed if so desired).
Engine is from Modular Motorsports Racing. If you know about Ford Coyote engines, then MMR should be familiar to you. This engine is a 2012-2013 BOSS block based build with the following options:
MMR 1000 BOSS LONGBLOCK (rated to 1000HP)
MMR Port and Polish Heads 4V Stage 3 (full CNC port)
MMR Hurricane Billet Oil Pump gears for 2011-2015 5.0
2011-2013 5.0 TiVCT Head Cooling Mod
2011-2014 5.0 / Boss and F-150 MMR Race Spec Chain Guides
2013 + 5.0 ARP 2000 Head Studs (11mm)
2011/2012 5.0 and BOSS ARP Block Side bolts
2011 - 2015 5.0 ARP MAIN STUD KIT
Ford Performance Pulse Ring modification (with other components to allow revving past 8,000 RPM)
Ford Cobra Jet Intake (about 7,8000 RPM peak typical)
Ford Cobra Jet Oval Throttle Body
MSD Blaster coil pack
Accel Fuel Rails with high lb fuel flow
Moroso low profile oil pan
Exhaust is a 1-7/8" primary tube, ceramic coated and heat wrapped headers flowing into 3.5" collector with venturi all optimized for high flow in a high RPM engine. Note, it's going to be a bit loud with the straight through bullet style mufflers. The mufflers and pipe are stainless steel.
Fuel pumps and filters are by Fuelab and designed for an engine making this amount of power.
Computer is by Ford Performance (all lights were green on it BTW so it seemed happy)
Transaxle is an Audi 01E unit built by Advanced Automation and features straight cut 1st, 2nd, and 3rd gears with locking differential, and is cryo treated. Note that with the gearing and RPM ability of the engine, the car is capable of over 60 MPH in 1st gear, and will max out well north of 200+ MPH theoretical in its rev range.
The axles are from the Driveshaft Shop and were guaranteed to handle the power of this engine.
Wheels are two piece Forgestar. 18x11 rear, and 18x9.5 front
Tires are Nitto NT01 305/35/18 rear and 245/40/18 up front. Tires are DOT approved but I wouldn't run them in hard rain.
Brakes are Wilwood Forged Superlite 4 caliper
The gauges are by Sheedhut. Note speedometer is GPS, not cable.
Air Conditioning by Vintage Air
Misc parts such as gas filler, door handles, radiator, mounting hardware, etc by RCR
The latches are by Aerocatch.
Note that all parts except the windshield (I cracked it) will be included including the other seat, the other door, and a rear spoiler already cut but not mounted. Also included when they are complete are carbon fiber side sill threshold covers (local person who did the fiberglass work for LoneStar40 is doing those for me...should be two weeks). I am also including a pre-oiler for the engine as the Coyote needs this (no distributor to spin) before you fire it up.
The price is $44,200 US. but will consider reasonable offers. Note that I would like to see this car go to someone who is either currently, or plans to get int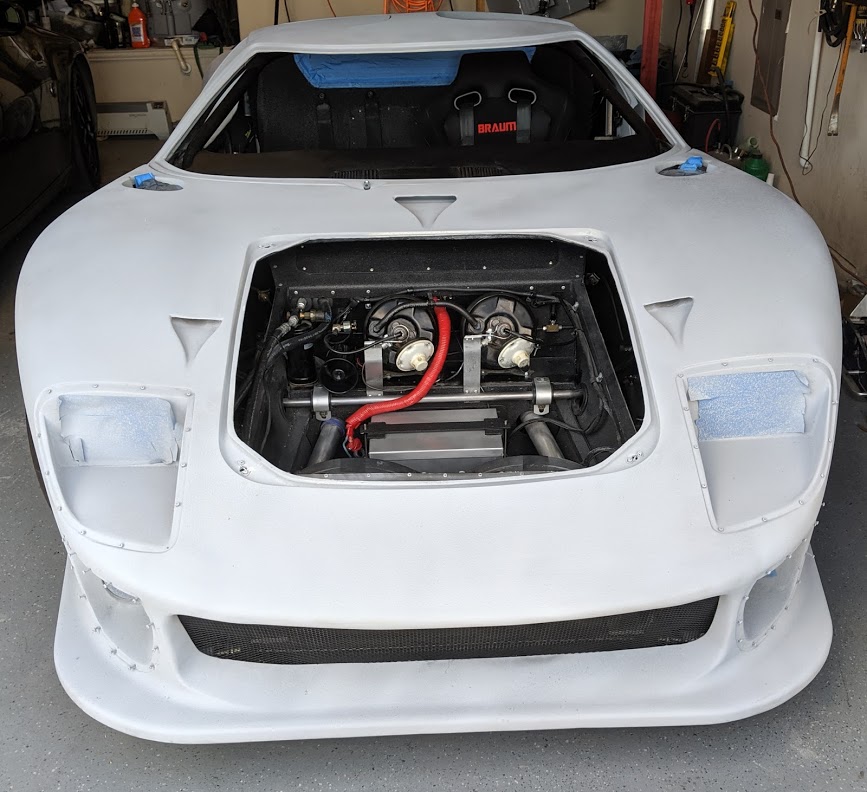 o, some form of racing with it as I would dearly love to see what it is capable of doing on a track. So, if you plan to race it, I'll come off of that figure a bit for sure.
UPDATE: I know this is a lot of engine. I'm willing to part the car from it if you are looking for something more tame. If you want to go that route, message me here and we can discuss it.
Thanks.
Darrin
Last edited: