Thanks for the response.
I was asking if you would share the design as others might be interested in the ordering the same design? well, not in your wheel widths and thus probably wouldn't assist you with any costs saving.

I might be interested in the CCW's. Would you be interested in shipping the CCW's to Australia? or might be easier to ship them to Fran and he can send them onto me with some other parts I'm considering.
This is just a rough sketch. Nothing exactly like it. Now that I know the final details, he can render the wheel for me to give final approval.
One of my favorite wheels has always been the Work VS-XX. So, for simplicity, I will have him do the center bolt pattern area and the lip of where the bolts go, the same as the Work wheel. My spoke pattern will be the infill though. Going for the least amount of lip possible in front, and the largest amount of lip in the rear possible. So, front will have a pretty flat face, and rears concave. It will be a very burly set up with the Kumho ACR tires of 295/25/19 and 355/30/19 and will fill in the rear wheel fender gap.
My wheel size choice will be 19x12 front, and 19x14 rear. That will give nearly the exact same sidewall roll over on both front and rear tires. It will stretch them just a touch, but that will improve steering response and eliminate a touch of inertia of tire roll into corners making for a slight better overall feel and grip. You would have to do a little massaging to the body to fit, but, a super wicked set up. Hearing REALLY good reviews on the Kumho ACR tires and price is very good too.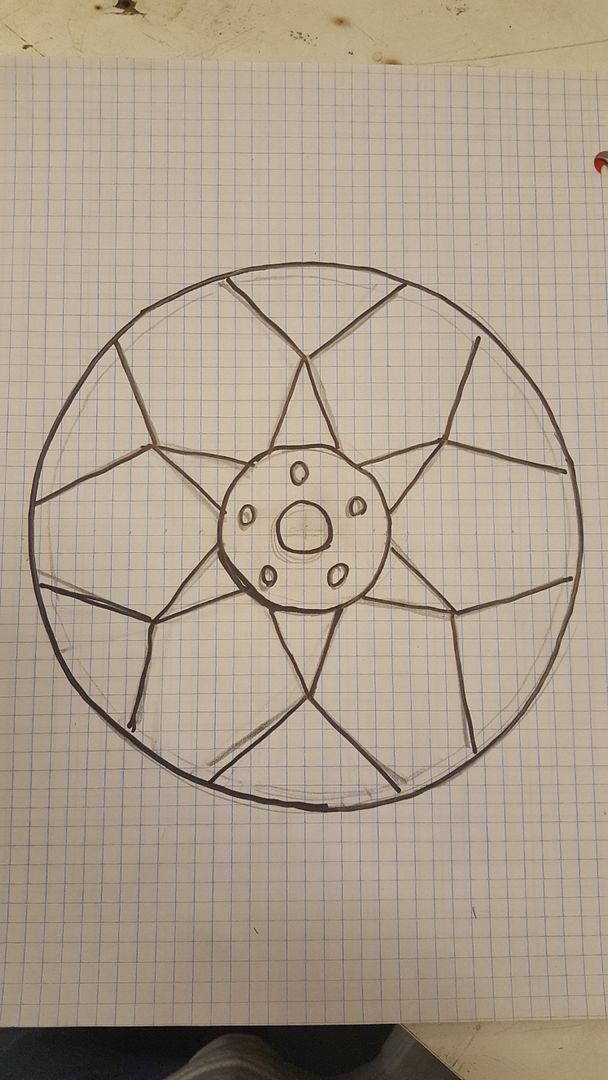 The Work VS-XX wheel. Just imagine my spoke pattern in it.