Milling Slide.... Hmmm. Didn't know there was such a thing. But of course in a way a lathe and a horizontal mill are similar so there should be a "hybrid".
This isn't mine but this gives you an idea.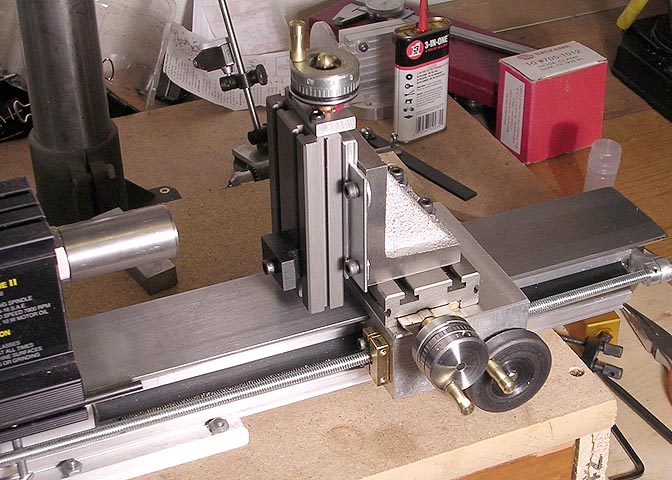 It's limited in size and in comparison to a proper milling machine isn't a fraction as 'stiff' and (for my lathe at least) the spindle speed doesn't go as fast as I'd like (originally only 500rpm, fine for steel stuff, not good for aluminium. Now upgraded to 2000rpm
). Other lathes of course vary, some lathes are setup with a T-slotted plate to which the tooling bolts, these are idea for replacing the tooling with the part or a milling slide.
But regardless ; I now think I should get a 3-in-1; you guys have convinced me (or rather, I convinced myself with your assistance) that my belief that my usage of a lathe would be too low to justify it is based on a lack of appreciation of what a lathe can do.
Its quite amazing what you can do with a lathe. Sometimes it takes a bit of imagination but at the same time it can be far easier with the 'proper' machine, even if that 'proper' machine is part of the same machine as in a 3-in-1.
The big thing for me was the realisation that you could swap the tool and material.
I will say again though that you can really end up spending a fortune on tooling, I think I've spent 2-3 times the lathe cost on tooling and extras and if possible look for a lathe/mill or 3-in-1 that comes with a lot of chucks/tooling.