The workshop interior build out continues. The mezzanine is now complete, OSB flooring painted, storage racks painted and assembled. Have I said how much I like the re-purposed pallet racking for an interior structure? It's much easier and cheaper than the alternatives.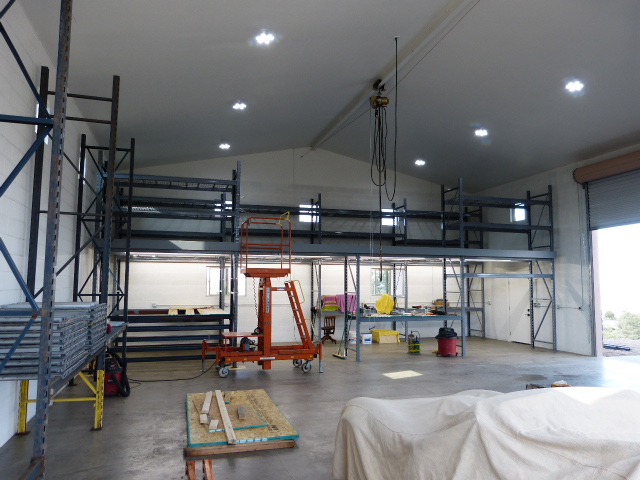 I completed the wiring for the under mezzanine lighting today and it's nice an bright. I used 8ft LED strip lighting that can be daisy chained together to simplify the wiring.
A friend loaned me a hydraulic lift on wheels (orange thing) with the thought it can be used as an elevator of sorts for mezzanine access instead of having a fixed set of stairs. To make it useful, it will need some modification so the initial lift point is 18" or so from floor instead of 6 feet but I think it might have promise.
Next up is to finalize the position of the pallet racking on the side wall, then repaint it, and configure shelves. All the storage rack space is needed as we are about to start a "whole house remodel" and most all of our furniture and possessions need to be stored somewhere. I'm hoping to have a usable workshop even with the new garage being used as a warehouse at the same time.