I know, I won't have the RCR kit until October, but my son Mike (13) and I are hard at work collecting parts and getting the engine ready. We plan on an aggressive time frame, with the car painted and on the road by next summer. Here is our planned paint scheme. I told Mike he could pick the colors and he agonized for weeks moving from Gulf to black and back. Here is what he came up with (He scanned a line drawing into the Benjamin Moore house paint program my wife picked up at the store to do our house color with and found the colors he liked best - hey, so what if our car looks like some ones house!):
We bought Ron Earp's engine, but we had to make some changes. Here it is right after we uncrated it: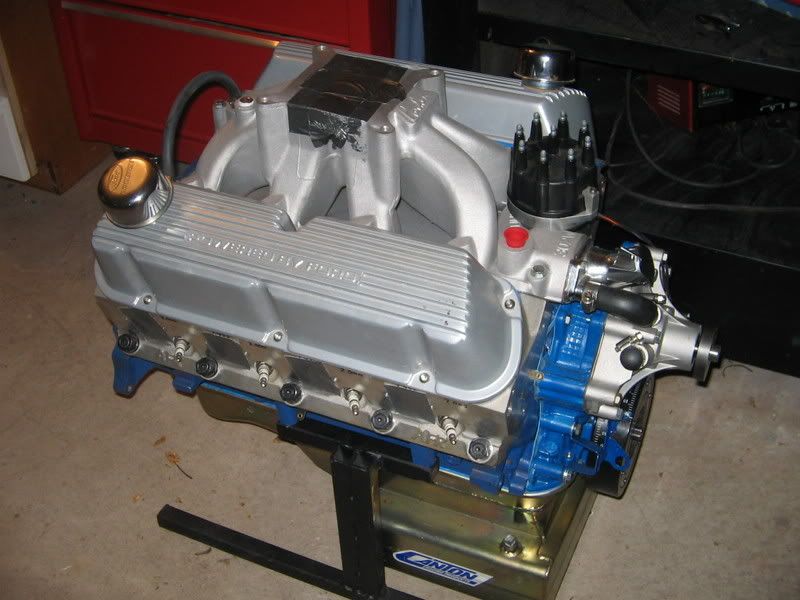 While the engine had a ton of go fast goodies, it was a little over the top for our needs. Here are the components straight from Ron:
- 342 inch SB Ford, brand new block, no overbore which is why it isn't a 347
- AFR 185 heads, custom CNC porting job
- Forged crank, zero balanced - bolt on your zero flywheel and go
- Forged Eagle H beam rods
- Forged pistons, compression right at 10.7:1 with Calico Coating applied
- Total Seal rings fitted
- DDS main support and windage tray with crank scraper
- Comp Cam solid roller mechanical cam, specs:
0.676" lift IN, 0.673" lift EX, duration at 0.020 287IN 295EX
Timing @ 0.050" IN Open 18 BTDC Close BTDC 58
Timing @ 0.050" EX Open 61 BTDC Close BTDC 21
110 Lobe separation
- Comp Cam Valve springs and titanium retainers, 600lb open, 260lb seat
- Composite dizzy gear, MSD Pro Billet Dizzy
- Ferrea Hollow Stem Intake and Exhaust Valves, 2.02/1.60
- Ferrea Valve locks and lash caps
- Jesel Comp Series Shaft rockers
- Jesel Pushrods
- Jesel Keyway solid roller lifters
- Total Seal rings
- ARP 1/2" head studs, ARP hardware throughout motor
- ACL 3/4 grove race main bearings
- ACL Race Rod bearings
- Competition brand balancer, three sets of timing marks
- Old style front cover with brand new shorty water pump, fuel pump boss functional and can be blocked (does not include fuel pump, using that on the Lola)
- Funnel web single plane intake manifold - a very good setup reported to be better than the Victor Jr and Sr. manifolds, rear tapped for cross pipe to eliminate steam/air pockets or add bleed
- Canton fully baffled trap door road race pan, front sump, fits well in RCR and RF cars - this motor has been in both sadly enough!!!
Did you check out those cam specs!!! Much too aggressive for our use. First thing we did was to change the cam, springs, manifold, and front cover. Here is the old cam, we replaced it with a comp cams magnum solid roller 31-760-8 (288 duration, .586 lift both intake and exhaust):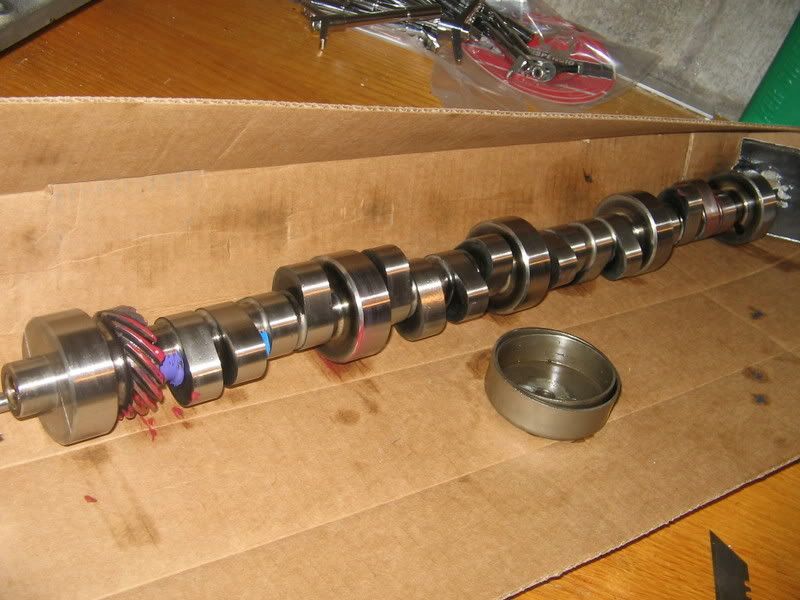 After the cam was changed we swapped out the springs. I connected the air to keep the valves closed and also put my fingers at risk as Mike used the spring compressor to compress the spring so I could remove the keepers. Darn springs were so strong we had to weld a 12" bar to the end of the spring compressor for leverage: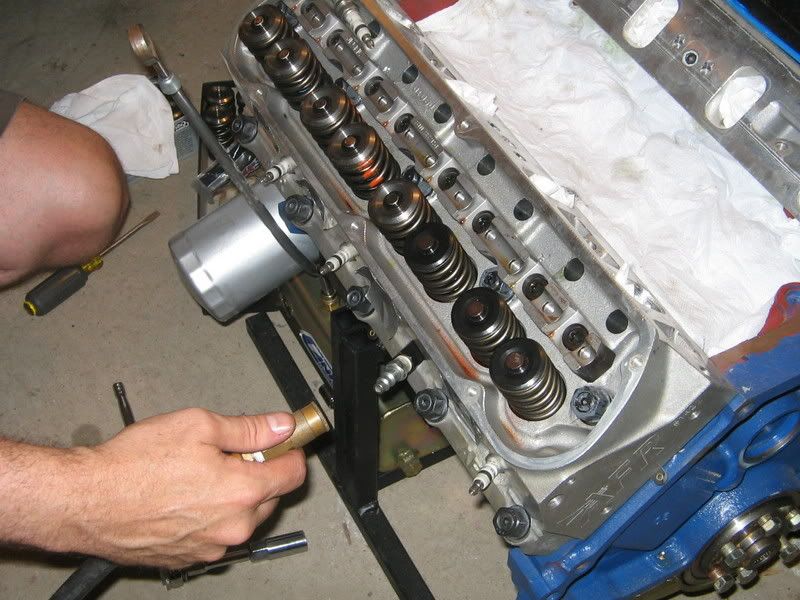 I'm using a strong magnet to remove the locks. Notice the difference between the hardened steel retainer on the right and nice shiney titanium retainer on the left. A difference of about $250!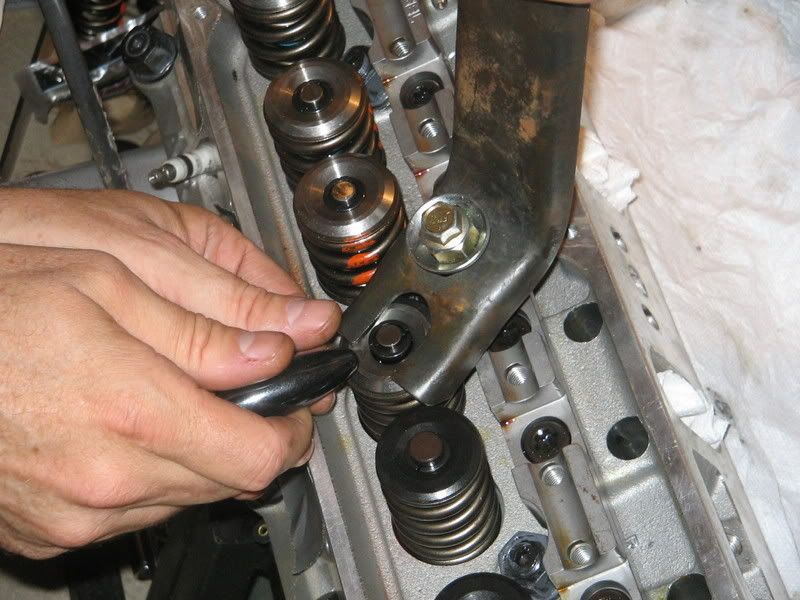 Also, took off the Parker Funnel web intake: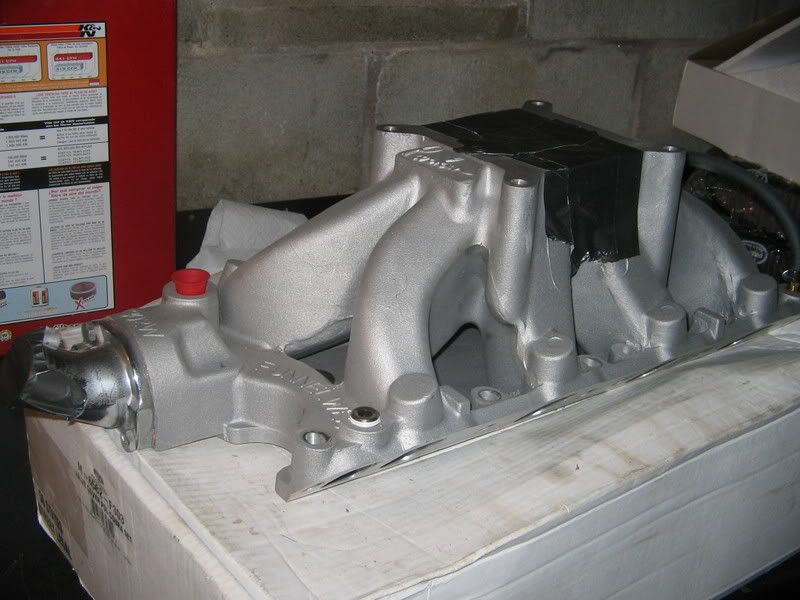 We have a special intake we modified for this project (can you say 8 barrels?). It will be back from the machine shop next week and installed (more later on that).
Finally, we got a pair of Gurney-Weslake valve covers, painted them black, and then Mike sanded off the name and fins: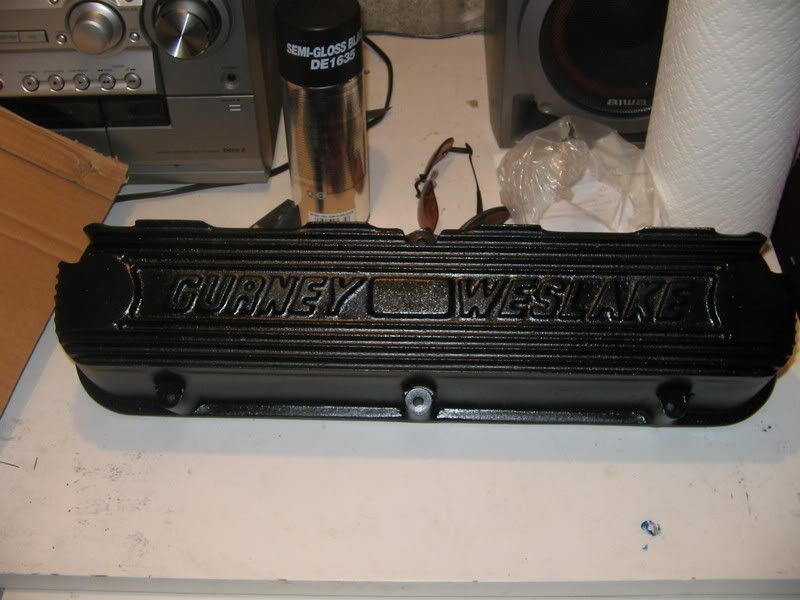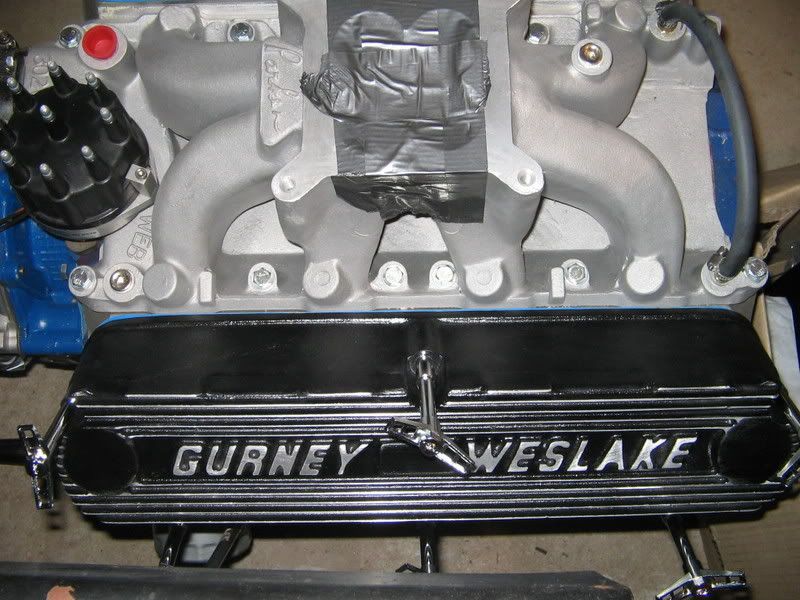 Standby as we finish the engine once the intake comes back from machining. This will be a true father-son build!