I've been off for many years doing lots of things, mainly racing. Last year I managed to win our SCCA SARRC points racing series with my SCCA ITS Mustang. So this year I'm talking a bit of a break and doing other projects. Good thing too, because my daughter turns 16 in several months and she'll need a car. Which starts this build thread. I'm a few weeks late bringing it to this forum but it is still early.
----
A long time ago I had a car. It was a pretty cool car for the time, a 1985 Ford Mustang 5L notchback. Notchbacks, or more properly sedans, were fairly uncommon being out produced around 10:1 by the hatchback/GT cars. This particular 1985 sedan was unique as it had all the LX trim options, power windows, "good" stereo, trim, and it had all the go fast goodies from the GT - 5L HO carbed roller cam V8, SS tubular headers, better shocks, springs, bars, and the Goodyear Gatorback tires. Even better it was lighter than the hatch cars.
Our family was the second owner of the car, acquiring it in 1986 with about 7k on the clock. The first owner had painted a matte black stripe down the hood to make it look like a GT. Here it is back in the day.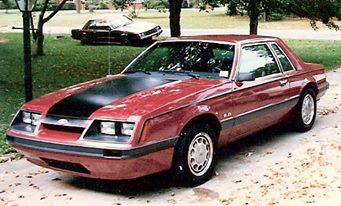 I drove the car from the late 86 time from up until around 1994, so about eight years, and covered around 140k in it. The car was bulletproof - fuel, oil, sparkplugs, one water pump, and brake pads/shoes were the only consumables.
Lots of stuff happened in that car, way too much stuff to cover here, but I did have it when I met my wife and she also traveled many a mile in the old five oh. It went to NY, PA, FL, SC, TN, VA, OH, GA, WVA, generally carrying four folks on some sort of road trip. All I know is when I remove the interior my daughter won't be present.
In 1994 my then girlfriend, now wife, drove it to Ohio to visit the Air Force Museum. Along the way the engine overheated and developed a pretty nasty ticking sound, but, we got there just fine. Once there we visited the museum we got hit on the right front quarter by an uninsured driver changing lanes into us. We nursed the car back to Virginia but I was scheduled to take a job with Dow Chemical in Louisiana inside of two weeks, so, the decision was made to sell the car.
This picture is from the day I sold the car, notice that the front emblem is missing. I liked the car so I did two things, took a rubbing of the VIN and took the front Ford emblem. Dude who got the car asked me what happened to it, I just shrugged and replied I had no idea, must have flown off last night on the way home.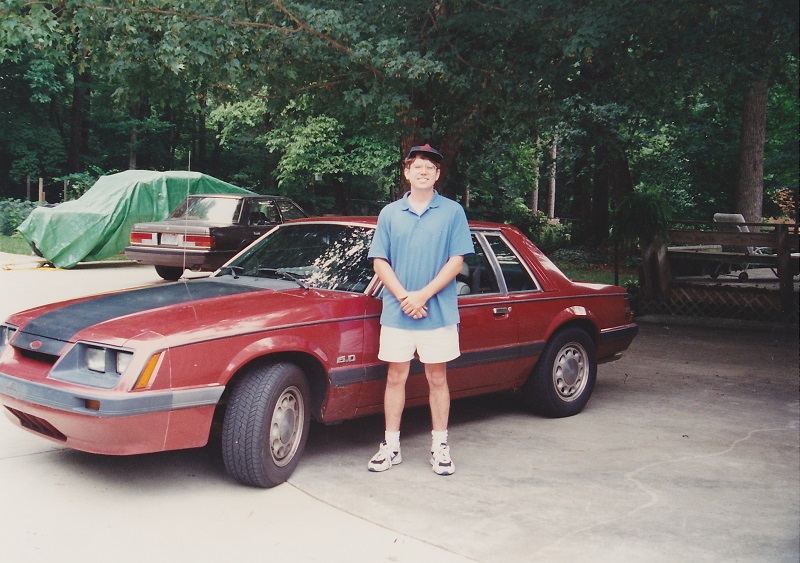 That Ford emblem has traveled all around with me since that day and can always be found someplace in whatever I have as a workshop. For the last fifteen years it's been attached to a TV in my garage, here it is today.
Now over the last few months I've been contemplating a car for my fifteen year old daughter Sydney. She likes cars, and I'm determined to use my car skills to provide her with something memorable. We've been talking about projects on and off, I'd like for it to be some sort of hands on experience, and about the best I've come up with is a few restorations or creating something that doesn't exist, like a manual tranny Jaguar XKR or similar.
Then one day I was fishing around in my old watch box I found the old registration for my old Mustang. That was it, I knew what the project had to be and set off looking for the car which is detailed here
I'm looking for a car I used to own...
And here we are.
So the car has been owned by the same fellow in Mebane NC since 2009/2010. He received the car as a gift for work he was doing on another fellows car, basically a trade arrangement. When he got the car everything worked - AC, windows, etc. and his wife used it to commute back and forth to Burlington. Around 2012 the rear main seal began to leak and the transmission was hard to get into third, so, the car was parked under a cover. January of 2016 the fellow uncovered it, moved it back into his garage, and began to get it back in working order to sell. They've got five kids, want the project out of the house, so when they got my letter in the mail looking for the car they were happy to give me a call about it.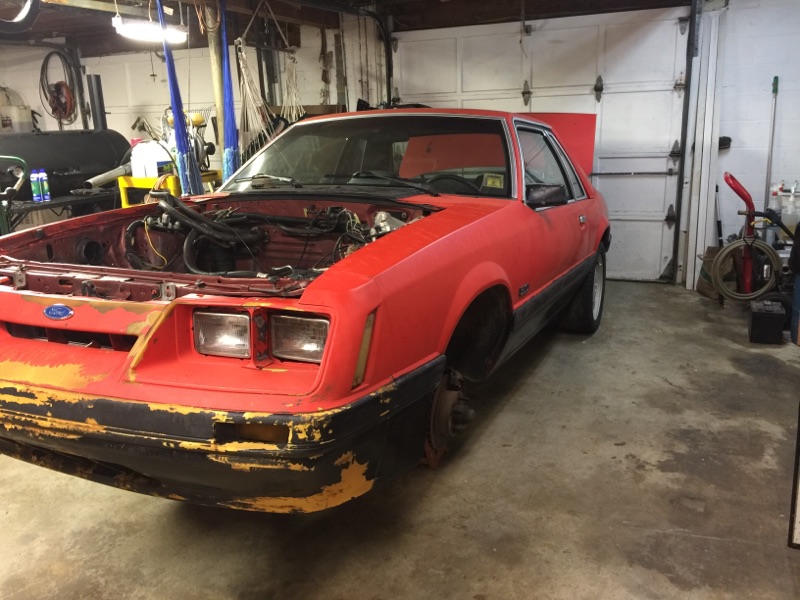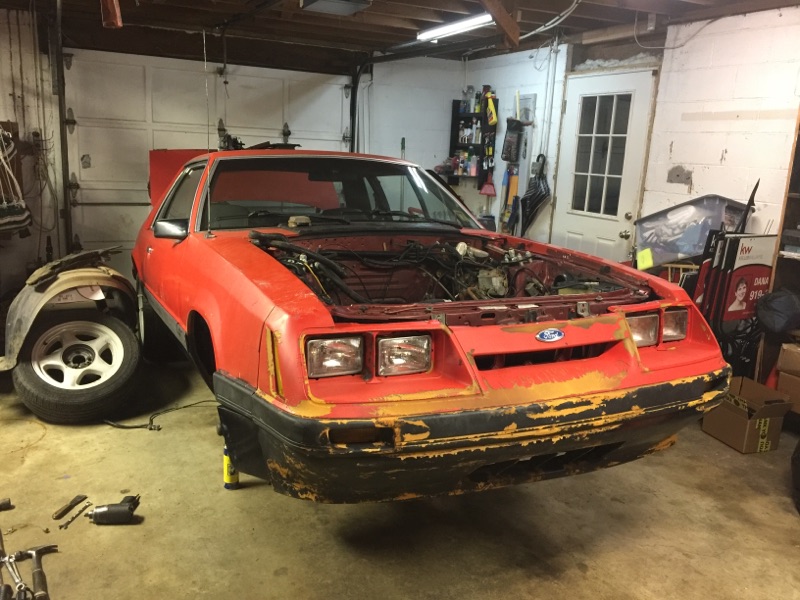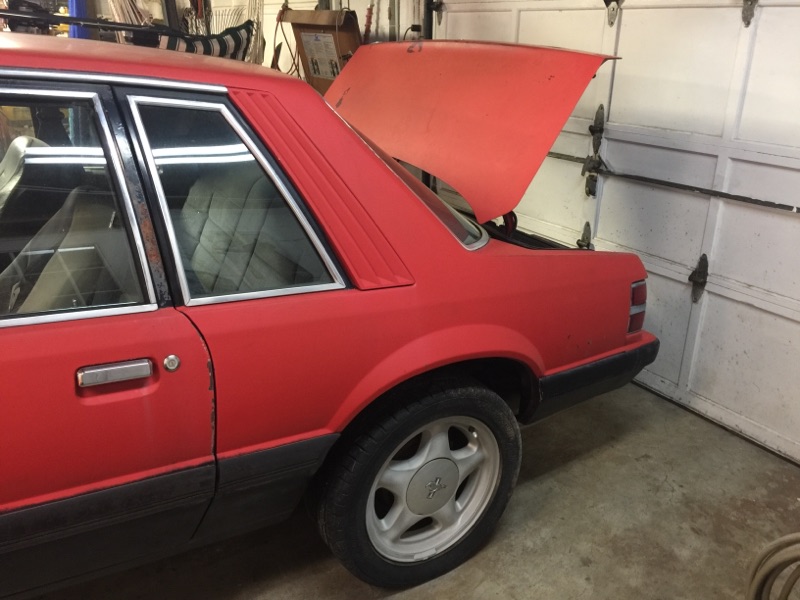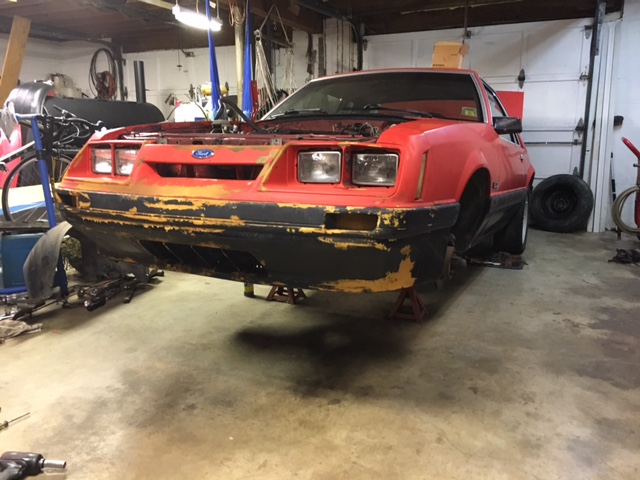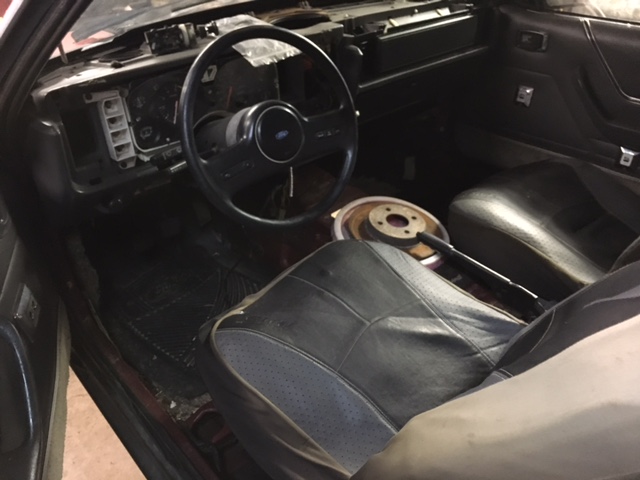 It needs a lot of work but mostly it is all there. He has dash parts, all AC, etc. everything it appears to making it a driving car again. Just needs a lot of work. I'm not sure exactly what the plan is, except to pick it up weekend after next and it's going to occupy the place where my green ITS Mustang resides.
So, it's on.