(Continued from previous post...)
I bought SKF Corvette Racing Hubs from
TPS Motorsports
with pre-installed ARP studs. According to their website:
The SKF Corvette Racing Hub unit is designed to provide high stiffness during cornering, thereby reducing piston knock-back and the need to tap the brakes (confidence tap). It has less than 10 micron run-out and is designed for durability and to maintain preload at sustained loads of 1.2g!
Six M12 - 1.75 mm thread x 75 mm Socket Head Cap Screws and six M12 washers are needed to mount the hubs to the uprights. I'm not sure what comes in the new kits, but McMaster only had that length in iron oxide so I spent a bunch of time looking for zinc-plated ones. The smallest quantity I found was a box of 80, so if anyone wants some PM me and I'll ship six to you at cost.
I drilled the socket head cap screws so that I can add safety wires when the car is finished. The hub can be clocked in any of three orientations and I positioned it so that the wires would be as close as possible to the parking brake. This keeps them away from the primary brake caliper and enables me to run those wires with the electric parking brake wires. The reluctor wires are very close to the stub axle and there is no provision to keep them in place. I'll figure out how to affix them once the parking brake brackets are machined.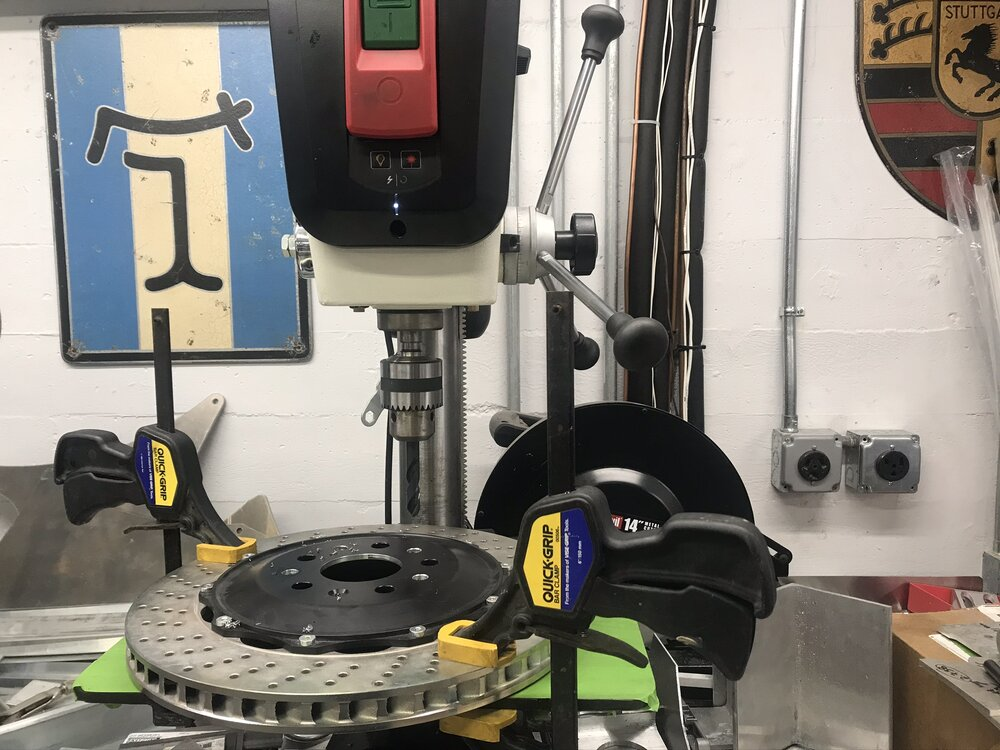 I wasn't able to mount the upgraded Brembo GT two-piece rotors to the hubs because the holes machined in the rotor hat by Superlite have a very tight tolerance (a good thing). I assumed that the longer studs were slightly askew so I opened the holes a little. I found that that a 31/64" bit fit the holes perfectly, so I used one to locate each hole on a drill press. After clamping the rotor to the table, I used a 1/2" bit to open the hole and then a counter sink to chamfer the edge. While not a complicated process, I also chamfered the other side so in total that's 20 hole locating and clamping operations, and 50 bit changes! I was able to get the rotor to fit by tapping it with my hand which caused the threads to create a few shavings. My bit set only goes to 1/2" so I'm going leave things tight for now.
I'm waiting for some parts to be plated (e.g., the ball joint plate, lower shock pins, etc.), so I haven't mounted the hubs to the car yet, but I'm not expecting any issues.
Note that I didn't upgrade the front uprights and hubs because, as discussed in a previous post, I had already upgraded the front hubs to re-buildable race hubs which are much nicer than the SKF racing hubs. Unfortunately they are no longer available.